Posts for: April, 2015
By Gary Bloomfield, DDS
April 21, 2015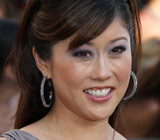 When Olympic figure skater Kristi Yamaguchi wanted to help her kids develop good oral health habits, the gold-medal-winner made good use of a family connection: Her father Jim Yamaguchi is a practicing dentist in the San Francisco Bay area who treats her entire brood. As she said in a recent interview, when she suspects the kids may be spending a little less effort on oral hygiene than they should, she playfully admonishes them: "You've got to brush your teeth better than that. Papa-san is going to know!"
Not all kids are lucky enough to have a grandpa who's a dentist — but every child can learn how to help take care of his or her oral health with age-appropriate techniques, plus plenty of parental guidance and encouragement. What's the best way to help your kids develop good oral hygiene routines? We're glad you asked!
Through babyhood and the toddler years, parents have the main responsibility for keeping kids' teeth clean. But as they begin to put away pacifiers and cease sucking thumbs — around ages 2 to 4 — children can also begin to help with their own oral hygiene routine. By then, kids will probably be used to the feel of gentle brushing, and may be eager to try it themselves.
A soft-bristled brush with a pea-sized dab of toothpaste is all they need to get started… along with a good dose of parental patience. Show them how to wiggle the brush back and forth from the gum line, and all around the upper and lower teeth, both in front and in back. At first, they will probably need plenty of help. But after the age of 6 or so, as their manual dexterity increases, so will their ability to get the job done.
You'll still have to check their work periodically — but you can also teach them how to do it on their own: Have your child run his or her tongue over the tooth surfaces. If they feel smooth and silky, they're probably clean too. If not… try, try again. This test is a good guideline to brushing effectiveness — but if you want to know for sure, use a temporary dye called a disclosing tablet (available at many drugstores) to reveal unseen buildups of plaque bacteria.
What else can you do to give your children the best chance at keeping a healthy mouth and sparkly teeth? Set a positive example! Make sure you (and your kids) eat a healthy diet, get moderate exercise, limit between-meal treats — and visit the dentist regularly. The encouragement you'll get after having a good dental checkup will make you feel like a gold medalist — even if the praise isn't coming from grandpa.
If you would like more information on how to help your child develop good oral health habits, please contact us or schedule an appointment for a consultation. You can also learn more about this topic by reading the Dear Doctor magazine articles "Dentistry & Oral Health For Children" and "How to Help Your Child Develop the Best Habits for Oral Health."
By Gary Bloomfield, DDS
April 06, 2015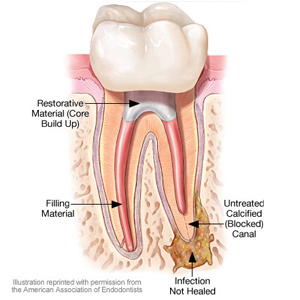 When decay spreads to the tooth's inner pulp, a root canal treatment may be necessary to save it. It's a common procedure: after removing all tissue from the pulp, the pulp chamber and root canals are filled with a special filling. The tooth is then sealed and a crown installed to protect the tooth from re-infection and/or fracture, possibly extending the tooth's life for many years.
Sometimes, however, the tooth doesn't respond and heal as expected: the number, size and shape of the patient's root canals may have complicated the procedure; there may have been a delay before installing the final crown or restoration or the restoration didn't seal the tooth as it should have, both occurrences giving rise to re-infection. It's also possible for a second, separate occurrence of decay or injury to the tooth or crown to undo the effects of successful treatment.
It may be necessary in these cases to conduct a second root canal treatment, one that may be more complicated or challenging than the first one. For one thing, if the tooth has been covered by a crown or other restorative materials, these will most likely need to be removed beforehand. In cases where the root canal network and anatomy are challenging, it may require the expertise of an endodontist, a dental specialist in root canal treatments. Using advanced techniques with microscopic equipment, an endodontist can locate and fill unusually narrow or blocked root canals.
Because of these and other possible complications, a root canal retreatment may be more costly than a first-time procedure. Additionally, if you have dental insurance, your particular benefit package may or may not cover the full cost or impose limitations on repeated procedures within a certain length of time. The alternative to retreatment, though, is the removal of the tooth and replacement with a dental implant, bridge or partial denture with their own set of costs and considerations.
The complications and costs of a repeated procedure, though, may be well worth it, if it results in a longer life for the tooth. Preserving your natural tooth is in most cases the most desired outcome for maintaining a healthy mouth.
If you would like more information on root canal treatments, please contact us or schedule an appointment for a consultation. You can also learn more about this topic by reading the Dear Doctor magazine article "Root Canal Treatment."