Posts for: February, 2018
By Gary Bloomfield, DDS
February 17, 2018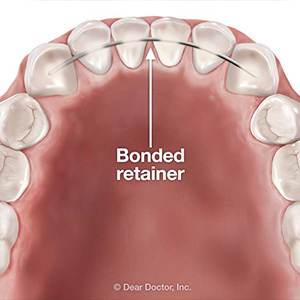 A lot of time and effort goes into straightening your smile. But there's a possibility it might not stay that way—and all that hard work could be lost. The same natural mechanism that enables your teeth to move with braces could cause them to revert to their old, undesirable positions.
So for a little while (or longer for some people) you'll need to wear a retainer, an appliance designed to keep or "retain" your teeth where they are now. And while the removable type is perhaps the best known, there's at least one other choice you might want to consider: a bonded retainer.
Just as its name implies, this retainer consists of a thin metal wire bonded to the back of the teeth with a composite material. Unlike the removable appliance, a bonded retainer is fixed and can only be removed by an orthodontist.
Bonded retainers have several advantages. Perhaps the most important one is cosmetic—unlike the removable version, others can't see a bonded retainer since it's hidden behind the teeth. There's also no keeping up with it—or losing it—since it's fixed in place, which might be helpful with some younger patients who need reminding about keeping their retainer in their mouth.
There are, however, a few disadvantages. It's much harder to floss with a bonded retainer, which could increase the risks of dental disease. It's also possible for it to break, in which case it will need to be repaired by an orthodontist and as soon as possible. Without it in place for any length of time the teeth could move out of alignment.
If you or a family member is about to have braces removed, you'll soon need to make a decision on which retainer to use. We'll discuss these options with you and help you choose the one—removable or bonded—that's right for you.
If you would like more information on bonded retainers, please contact us or schedule an appointment for a consultation. You can also learn more about this topic by reading the Dear Doctor article "Bonded Retainers: What are the Pros and Cons?"
By Gary Bloomfield, DDS
February 02, 2018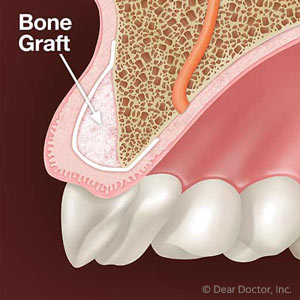 Due to financial circumstances, people often have a lost tooth restored with a removable partial denture, an effective appliance that restores function and a degree of aesthetic appearance. Later, though, they may want to improve both function and appearance with a dental implant.
If this describes you, you're making a great choice. Dental implants are the closest technology we have to a natural tooth. But there may be a roadblock to your implant, especially if a long time has passed since your tooth loss—there may not be enough bone at the site to place an implant.
The heart of an implant is a titanium metal post surgically imbedded in the jawbone. The titanium naturally attracts bone cells, which grow and adhere to it to form a solid hold that can support a porcelain crown or other restorations like bridges or dentures. But to achieve a natural appearance it's important that the implant is placed in the right location. To achieve that requires adequate bone.
But there may not be adequate bone if the tooth has been missing for a while. The forces generated when we chew travel through the teeth to the jawbone, which stimulates bone growth. If that stimulus is absent because of a missing tooth, new bone cells may not replace older ones at a healthy rate and the total bone volume begins to diminish. A denture can't compensate and, in fact, accelerates bone loss.
But there may be a solution: bone grafting. With this procedure we place a donor bone graft into the area of bone deficiency some time before implant surgery. The graft serves as a scaffold for new bone cells to grow upon. Hopefully, this will produce enough healthy bone to support an implant. If the bone deficiency is minor, we may place the implant and the bone graft at the same time.
If you have experienced bone loss, we must first determine the amount of bone at the missing tooth site and whether grafting is a viable option. Bone grafting postpones your implant, but the delay will be worth the wait if we're successful. With increased bone volume you'll be able to obtain a new tooth that's superior to your current restoration.
If you would like more information on dental implants, please contact us or schedule an appointment for a consultation.