Posts for: February, 2020
By Gary Bloomfield, DDS
February 20, 2020
Your child's current dental care sets the stage for good oral health later in life. It's essential, therefore, that you know how best to protect their teeth and gums. In recognition of February as National Children's Dental Health Month, here's a short true or false quiz to test your knowledge of proper dental care for your child.
Your child's dental hygiene begins when their first teeth appear.
False: The bacteria that cause dental disease can take up residence in an infant's mouth before their first teeth come in. To help curb this bacterial growth, wipe your baby's gums with a clean, wet cloth after nursing or bottle-feeding.


Kissing your newborn on the mouth could lead to tooth decay.
True. Any mouth-to-mouth contact with your infant could transfer oral bacteria from you to them. Their immune system isn't mature enough to handle these "new arrivals," which can increase their risk for tooth decay. Instead, kiss your child on the cheek or forehead or use other ways to show affection.


Primary (baby) teeth don't need the same care from disease as permanent teeth.
False: Although they have a limited lifespan, primary teeth play a huge role in a child's dental development by protecting the space intended for the incoming permanent teeth. If primary teeth are lost prematurely due to dental disease, it could lead to incoming teeth erupting out of position.


It's best to start your child's regular dental visits around their first birthday.
True: By age one, children already have a few teeth that need preventive or therapeutic care by a dentist. Starting early also gets them used to seeing the dentist and reduces their chances of developing dental visit anxiety.


Your infant or toddler sucking their thumb isn't a cause for concern.
True: Thumb-sucking is a nearly universal habit among infants that typically begins to fade around ages 3 or 4. If the habit continues, though, it could begin affecting their bite. It's recommended that you encourage your child to quit thumb-sucking around age 3.


The best time to consider your child's bite health is right before puberty.
False: Signs of an emerging bite problem can begin appearing even before a child starts school. It's a good idea, then, to have your child undergo an orthodontic evaluation around age 6. If the orthodontist finds a problem, it may be possible to intervene to correct or minimize it before it goes too far.
One last thing: Your child's dental care isn't entirely on your shoulders. We're here to partner with you, not only providing preventive and therapeutic treatment for your child, but also advising you on their day-to-day dental care and hygiene. Together, we'll help ensure your child's dental development stays on track.
If you would like more information about dental care for children, please contact us or schedule a consultation. To learn more, read the Dear Doctor magazine article "Dentistry & Oral Health for Children."
By Gary Bloomfield, DDS
February 10, 2020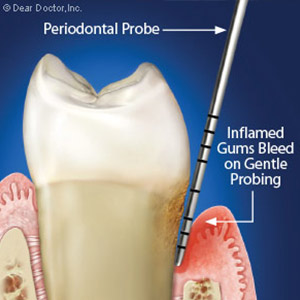 How do you know if you have periodontal (gum) disease? Sometimes your gums will tell you—when they're red, swollen or bleed easily.
But your gums can also look and feel healthy while a gum infection still brews below the gum line. In this case, a regular dental visit could make the difference. Even without overt signs of infection, we may be able to detect gum disease with a slender metal instrument called a periodontal probe.
Gum disease is a bacterial infection that most of the time arises from dental plaque. This thin film of bacteria and food particles accumulates on tooth surfaces, especially because of poor or non-existent oral hygiene. A continuing infection can weaken gum tissues and cause them to pull away or detach from the teeth.
Normally, there's a slight gap between the gums and teeth. But as the infected gums pull away, the gaps grow larger and deeper, forming what are known as periodontal pockets. They become filled with infection that soon spreads to the root and bone and increases the risk of tooth loss.
These pockets, though, could be the means for detecting a gum infection with the help of the periodontal probe. During a dental exam we gently insert the probe, which has millimeter depth markings etched on it, between a tooth and its adjacent gums. While a depth of 1 to 3 mm is normal, a probe measurement of 4 to 5 mm could be a sign of an early stage infection. A reading of 7 to 10 mm, on the other hand, may indicate more advanced disease.
Along with other factors, periodontal probing can be quite useful identifying both the presence and extent of a gum infection and then how to treat it. The goal of any treatment is to remove plaque and tartar (calculus) deposits that sustain the infection. But probing, along with other diagnostic methods like x-rays, could point to deeper infection below the gum line that require more extensive methods, including surgery, sometimes to access and remove the disease.
Achieving the best treatment outcome with gum disease often depends on finding the infection early. Periodontal probing helps to make that discovery more likely.
If you would like more information on diagnosing and treating gum disease, please contact us or schedule an appointment for a consultation.